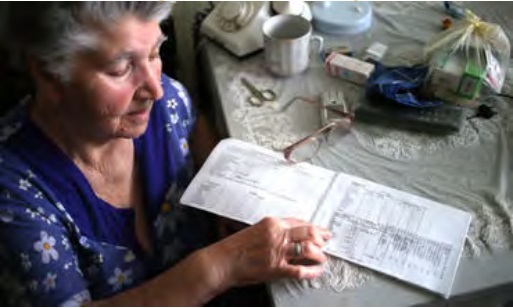 In April, will also increase the cost of gas for the population – from 1.1 to 4.1 UAH per cubic meter.
Electricity tariffs for the population of Ukraine will rise 3.5 times in two years. The corresponding decision was made by the National Commission for electricity, RIA News reported.
The average price of electricity will increase from 30.58 kopeks to 1.23 UAH per kilowatt-hour. Tariff increases will begin April 1, 2015. While consuming up to 100 kilowatt-hours of Ukrainians will pay 36.6 kopeks, from 100 to 600 kilowatt-hours – 63 kopecks, more than 600 – 1.41 UAH.
In April, will also increase the cost of gas for the population – from 1.1 to 4.1 UAH per cubic meter.
Energy Minister of Ukraine Volodymyr Demchishin explained that the increase in prices was one of the conditions for granting financial assistance to the International Monetary Fund (IMF). According to officials, the IMF proposed to sharply increase tariffs for the population to match the prices of imported fuel. The Minister noted that the government has not taken this step.
The minimum wage in Ukraine dropped to $ 43 (1218 UAH) due to the collapse of the UAH. According to this indicator Ukraine has lagged behind Bangladesh, Ghana and Zambia (46.6 dollars). This year, Kiev expects to receive $ 10.8 billion from the IMF. Minister of Finance of Ukraine Natalia Yaresko reported that the 60 per cent of the total aid fund.
The introduction of differentiated tariffs depending on consumption, creates conditions for energy savings and protects the vulnerable segments of the population. At one time, the introduction of time-based billing in telephony allowed to transfer this branch from losing to profitable within a few months. The introduction of differentiated tariffs would save those subscribers who want it, and the energy supplier will provide resources for the development of infrastructure networks by users who are not interested in saving. Reduced consumption and reduction of losses will connect to the distribution network more subscribers, and hence increase the economic efficiency of the existing distribution network. For the introduction of an automated AMM system BALANCE and its services, a monthly payment of maintenance of the distribution network is enough to add from one dollar to one euro and the five-year term deployment across the country, all subscribers will be equipped with an integrated AMM system for electricity, gas, water and heat – BALANCE system. Sample calculations introduction of AMM system on the scale of Moldova, Armenia and Ukraine – will send upon request.
Developed WEB interface provides user access to hourly and daily consumption profile. Consumption may be compared to last year, with an average household and regulations. By setting a threshold of consumption can be warned by e-mail (access control in an apartment or cottage, revealing forgotten included devices circuits and sparks, leaks and ruptures in the pipeline). BALANCE system predicts consumption at the end of the month and warns when exceeding a predetermined threshold.
Modularity and multi-channel equipment BALANCE system allows you to work with established electrical meters with pulse output and its implementation costs much cheaper in comparison with the installation of specialized electricity meters with integrated remote data transmission.
Reed more: "Sotsnorma, two-part tariff and reform energy efficiency", and "20 questions about AMM system" online at www.djv-com.net.
Electricity for the population of Ukraine will rise in price by 3.5 times